Hotel Cæsar – Norwegian soap
I happen to call and ask if them needed an extra. They did.
Krem Nasjonal – Childrens TV
A friend who worked in NRK (Norwegian TV) said that he would use me in something. That something turned into a vampire in a Norwegian childrens program.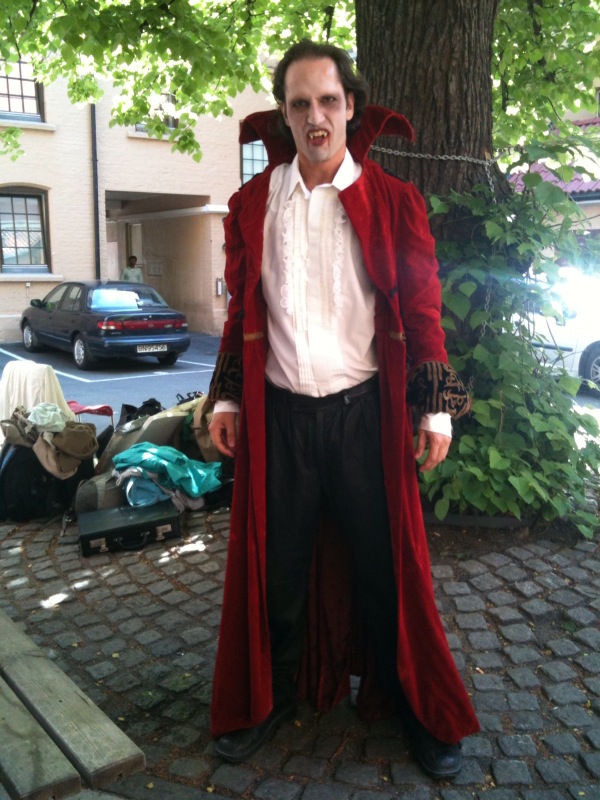 Gåte Music Video
I was one of the knights in a music video for the Norwegian band called Gåte.
21 Grams
The director saw my picture in Central Casting extra archive and wanted me as a photo double for Sean Penn in the movie 21 Grams.
A parking lot in Hollywood.
Starsky & Hutch
For 2 days I was on the Starsky & Hutch set in Pasadena. It is always interesting figuring out the scene and the setting to where I am being placed. I will include a video of the scene below, but the part I was in was not included.
The filming was at a mansion in Pasadena right by Los Angeles.
Taxi
On set I met Kenneth Walker, the makeup and hair stylist person with a similar connection to spirit as myself. It feels so wonderful to meet similar like hearted people! I stood out and they used me as a background in a couple of scenes.
I met Kenneth the stylist.
American Pie – The Wedding.
I am walking in the background. There are walls set up inside a huge stage area (looks like a huge warehouse) that creates a look of being inside a house.
Walking in the hallway of the fake hotel.
Cheaper by the dozen
I am one of the guys picking up trash in the background. It was a fun scene to take part in. Steve Martin is actually a very quiet and reserved person.
When the camera is on him he blossoms like a beautiful flower.
On the ball field. I am in the bleachers picking trash as the kids run toward the coach on the field.
Stacie Orrico There's Gotta Be More To Life
A very interesting day with many really good conversations!
In am in the video as a runner and in the office scene but not visible. I briefly spoke with Stacie and enjoyed her presence during our conversation.
I was an extra in a lot of other productions as well. I have not been able to view any of those. Being on set is like being in a real life dream. At the same time experiencing the seemingly day to day business of producing a TV episode, movie or music video. I really like the fantasy of being a specific character.